Tech
How Formation 8 Plans to Win the Startup Game
Venture investor Brian Koo fills us in on what's hot in Asia and Silicon Valley.
by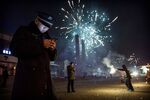 Formation 8 is an interesting experiment. The venture firm has deep connections in Silicon Valley and Asia, which it hopes can give it an edge over others racing to cash in on the tech boom in both locales.
Business in the Valley and Asia is a relationship game. U.S. venture investors rely on elite networks to gather intel and insights, and to connect with promising entrepreneurs. Personal ties fuel deals in Hong Kong, Tokyo and Seoul. The Chinese term business term guanxi translates roughly into "influence that grows from contacts." South Korea's most powerful companies are chaebols, family-run conglomerates like Samsung and LG.
Formation 8's founding members all have enviable connections. Gideon Yu, the former chief financial officer of YouTube and Facebook, helped orchestrate Yahoo's investment in Alibaba. Jim Kim was a partner at Khosla Ventures and co-founded the GE Ventures initiative. And Joe Lonsdale (yes, that Joe Lonsdale) worked at Peter Thiel's hedge fund Clarium Capital and co-founded a Thiel-funded company, Palantir. Joel Sng recently joined Formation 8; the Singaporean-based Harvard grad was an early investor in Xiaomi, Airbnb, Facebook, Palantir and Uber.
I recently spent an afternoon with another Formation 8 co-founder, Brian Koo, whose family runs South Korea's LG empire. He talked about why his firm's relationships are a key advantage, why South Korea is such an important innovation hub, and his favorite startup sectors in Asia.
What advantages do you offer entrepreneurs?
So many of the companies we're interested in, especially hardware startups, benefit from a strong connection to Asia. When a startup here claims to be making the next big hardware innovation for the smart home, I want to know if they work with an Asian manufacturing partner to quickly make and test products. It's hard to find a hardware company that shouldn't work with a Chinese manufacturer to get the best efficiencies and cost savings. But they don't know how to do it.
You enlisted Samsung to help your portfolio company Oculus VR when its headset caused motion sickness. (Facebook bought Oculus for $2.3 billion last year.) Samsung leaders spend time in the Valley. Why couldn't another VC firm have made that introduction?
I had meetings with everyone from directors to employees because they all had to be excited about the new technology before they would get involved. The family had to be supportive. We also approached entertainment businesses in Asia about making virtual reality content and talked to local governments about setting up virtual reality funds to support local startups. Now Oculus powers Samsung's Gear VR headset. The R&D money that Samsung is putting into virtual reality should benefit Oculus, as should the Korean entertainment companies that are working on content.
What advantages do you offer your limited partners, which includes a lot of big Asian companies?
Their motivation is not just to put money into a fund. They want to find a huge billion-dollar business that they can build with us. They want to partner with us to find the next innovative thing and make sure they don't die in a fast-moving environment.
Let's talk about South Korea. The Boston Consulting Group says that mobile Internet penetration worldwide is at 36 percent today. But almost 75 percent of South Korea owns a smartphone and a majority of the population has 4G connectivity. Should we be watching that country more closely?
Korea shows that it's a mistake to think that Asia is behind us. Apps that we're just getting used to are totally normal in Korea because of mobile phone penetration. Everyone uses apps for services like home delivery and repair. Later this year there may be no more ATM machines in Korea because the government wants to promote mobile payments. Also, having so many avid users of apps means that the competition is cutthroat. People will switch from one on-demand ride or payment app just to save a penny. If your service survives in Korea, that's impressive. That's why Google launched a startup campus in Seoul. If people feel like we're crazy about Asia only because the potential markets are big, they're wrong.
What do U.S. investors give Asian startups that they can't get elsewhere?
Lots of startups in Asia don't know how to build a brand. They don't understand that integrating more deeply with software could give them an edge. We just made a significant, $100 million investment in the Korean mobile company, Yello Mobile, which has basically every mobile service you can think of except for gaming and messaging. We can help it go deeper into data analytics.
In Asia, what sectors are you interested in?
Financial tech. There are regulatory issues there and in the U.S., but startups in places like Korea will grow fast. Agricultural technology will be huge, especially in China. Logistics in Southeast Asia.
Why the name Formation 8?
People think that we chose it because eight is a lucky number in China, but it was really to reflect the fact that eight people in a room in Seoul, including advisors, committed to making this firm.
What's the biggest misconception that Silicon Valley has about Asia?
People here talk about Chinese companies like Alibaba and Samsung coming to us, but they don't understand how important it is for us to go to them. They think they can understand opportunities in Asia without having a strong presence and deep connections. People mention the 2 billion potential Internet and mobile users in China and India, but they won't understand what those consumers want unless they visit. It's not about knowing trends. You have to live them. Everyone's heard that Korea has the highest mobile penetration rate of any country, but unless they go they won't see what that really means.
This column does not necessarily reflect the opinion of the editorial board or Bloomberg LP and its owners.
(
Corrects third paragraph of article published March 5 to remove erroneous reference to Joel Sng's linage. He is not a great-grandson of Chinese revolutionary Sun Yat Sen.
)
To contact the author of this story:

To contact the editor responsible for this story:
Timothy L. O'Brien at tobrien46@bloomberg.net
Before it's here, it's on the Bloomberg Terminal.
LEARN MORE