Why Draghi's QE Might Fizzle
The ECB's QE plan faces three dangers; not enough bonds to buy, a Grexit threatening the euro's future and, surprisingly, a resurgent economy.
by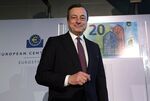 I can see at least three clear and present dangers to the European Central Bank's proposed quantitative easing program that's scheduled to begin this month. The first has been widely discussed: that there aren't enough government bonds available to fulfill the pledge to buy 1.1 trillion euros ($1.22 trillion) of debt at a pace of 60 billion euros per month. The second is wildly unpredictable: the prospect that the Greek government misbehaves badly enough that the future of the common currency is once again plunged into doubt. The third, though, is the real surprise: that the euro region economy might -- might -- be recovering sufficiently to make the bond-buying plan obsolete before it gets going in earnest.