U.K. and France Should Ditch Eurostar
The U.K. has sold its stake in the Eurostar train service, triggering outrage. The better question may be, why doesn't France sell its stake, too?
by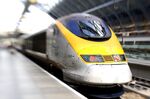 Britain has sold its 40 percent stake in the high-speed Eurostar train service between London, Paris and Brussels for a healthy 757 million pounds ($1.15 billion). Inevitably, that has triggered complaints from commentators and labor unions that the Conservative government is "selling off the family silver."