New MLS Deal Isn't Ready for Big Leagues
The Major League Soccer season will kick off Friday after all, with the league and the players' union narrowly avoiding a strike.
by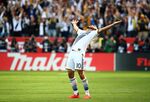 The Major League Soccer season will kick off Friday after all, with the league and the players' union narrowly avoiding a strike by agreeing in principle to a new collective bargaining agreement.
The major sticking point had been free agency and compensation, and though the agreement does give the players some concessions, they come with major caveats.
Under the new five-year deal, players gain limited free agency, an important point given the owners' previous reticence to include any form of player movement in the CBA. Players who are at least 28 with a minimum of eight years of MLS experience will be eligible for free agency once their contracts expire -- more favorable terms than the owners' initial offer (minimum 32 years old, 10 years experience).
Free-agent raises will be capped, however. The Orlando Sentinel's Paul Tenorio explains:
Players who are making less than $100,000 can make up to 125-percent of their salary, players making between $100,000-$200,000 can make up to 120-percent, and those making more than $200,000 have a cap of up to 115 percent of their current base.
The league's minimum salary will increase from $36,500 to $60,000, which will help round out rosters with rookies and lower-level players who now stand to make a more decent wage. 
It works in everyone's favor that the growing league managed to avoid what could have been a disastrous work stoppage. Full free agency wasn't a realistic goal for this deal, and players will be able to negotiate further concessions in five years. 
But many players still think the union caved too soon, given their leverage. One player sounded resentful of the union leadership's role in pushing for the agreement just a day after representatives voted 18-1 to strike. According to Goal.com's Ives Galarcep, representatives from seven teams still voted against the CBA, and some players remain suspicious of the sudden turnaround.
The divide within the union might be explained by the relatively small faction of players who benefit from the new deal. Free agency will only be available to veterans, and the cap on pay raises limits players who outperform their contracts in negotiating for a fair market value in their next deal. 
In the long run, many players also think the deal undermines MLS's goal to compete with elite soccer leagues around the world. MLS Commissioner Don Garber has repeated his desire to see the league reach that status by 2022, which seems unlikely given present conditions. A top-tier league requires top-level talent, which requires top-level salaries to lure players away from more established leagues. Most MLS teams are losing money, although the league says its sponsorship revenue has doubled since 2010. It can expect a healthy infusion of cash from the eight-year broadcasting deal it signed last year with ESPN, Fox and Univision Deportes, which raised its annual television revenue from $18 million to $90 million. 
That money would be best invested in the next generation of big-name players who can raise the profile of North American soccer. In five years, it will be important to take the progress the players have made and build on that momentum. As it stands, there's still little keeping American talent from seeking greener pastures overseas.
This column does not necessarily reflect the opinion of Bloomberg View's editorial board or Bloomberg LP, its owners and investors.