Hillary's E-Mail and the Public Interest
The public and government alike benefit from clear, simple rules designed to protect the historical record.
by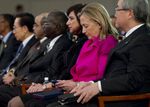 The controversy over Hillary Clinton's use of a private e-mail account while serving as secretary of state raises issues that go beyond partisan positioning and any single official. The issue involves the arcane area of records management and its complicated role in the era of electronic communications.
As a starting point, the idea of transparency is helpful, but it is far too simple to capture all the values and interests at stake. The public and the government alike benefit from clear, simple rules designed to increase efficiency, reduce costs and protect the historical record.
The central government agency involved here is the relatively obscure National Archives and Records Administration, which is run by the superb David Ferriero, archivist of the United States. (Disclosure: As administrator of the Office of Information and Regulatory Affairs from 2009 to 2012, I worked with Ferriero on records management issues; my wife, Samantha Power, now serves as U.S. ambassador to the United Nations.)
NARA operates under the authority of the 1950 Federal Records Act, which offers a remarkably broad definition of "records." The term includes:
All recorded information, regardless of form or characteristics, made or received by a Federal agency under Federal law or in connection with the transaction of public business and preserved or appropriate for preservation by that agency or its legitimate successor as evidence of the organization, functions, policies, decisions, procedures, operations, or other activities of the United States Government or because of the informational value of data in them.
The authors of that definition could not possibly have imagined a world containing e-mail, yet e-mail is unquestionably included, whether or not sent from a standard government address.
Careful records management is valuable for at least three reasons. It maintains some kind of account for posterity, so that future government leaders, and citizens generally, can learn from our successes and our failures. It allows people access to many government records through the Freedom of Information Act, including e-mails. (Electronic records greatly simplify FOIA compliance.) And it facilitates congressional investigations of administration activities.
In a historic memorandum issued in November 2011, President Barack Obama described proper records management as "the backbone of open government." He called for concrete actions by both agency heads and the Office of Management and Budget to improve their record-keeping, "particularly with respect to managing electronic records, including email and social media, deploying cloud based services or storage solutions, and meeting other records challenges."
About a year later, OMB responded with a directive requiring federal agencies, by 2016, to manage "both permanent and temporary email records in an accessible electronic format." Those records must in turn be transferred to NARA.
Secretary Clinton created her private e-mail address well before these initiatives, and a good argument can be made that use of such an address can be undertaken in a way that complies with the Federal Records Act. (NARA regulations, issued in 2009, recognize that agencies may allow employees to send and receive official e-mail on systems not operated by the agency, but "must ensure that federal records sent or received on such systems are preserved in the appropriate agency recordkeeping system.") For the conduct of government business, however, it is much better if a government e-mail address is used.
None of this means that internal government e-mail should be open to the world. Of course classified information must be protected from disclosure. And as FOIA itself recognizes, public officials are entitled to engage in a deliberative process, in which recommendations are made and preliminary views are offered confidentially. Necessary conversations could not occur if they were always open to the public.
There is also a constant risk that both FOIA requests and congressional inquiries will be designed to embarrass officials and to score ugly partisan points. Executive branch resistance to such requests and inquiries might be perfectly legitimate.
For proper records management, however, the best approach is clear. Consistent with both White House guidance and a law passed by Congress just last year, public officials are allowed to have private e-mail addresses, but for public business, they should use an official account. If they use a private address for public business -- under emergency circumstances or otherwise -- the relevant e-mails should be forwarded to that account. That's simple, it's in the public interest, and it avoids a lot of trouble.
This column does not necessarily reflect the opinion of Bloomberg View's editorial board or Bloomberg LP, its owners and investors.