Benghazi Panel Wants More Than Clinton's E-Mail
Republicans now want the e-mails Clinton hasn't provided to State, as well as the messages on her personal domain server that were written and received by top aides.
by and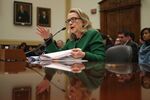 Former Secretary of State Hillary Clinton's call for some of her private e-mails to be publicly disclosed won't placate her critics, especially Republicans on the House special committee investigating the 2012 attacks in Benghazi, Libya, who now demand access to far more information.
In a Twitter post late Wednesday, Clinton said she wants the State Department to publicly release her e-mails in its possession. The State Department said Thursday that it would begin a review of the more than 55,000 messages Clinton's staff provided late last year. That is a portion of the trove stored at clintonemail.com, her private domain since 2009. But Republicans on the panel told us they are now asking for the e-mails Clinton hasn't provided to State, as well as the messages on her personal domain server that were written and received by top aides.
"I can promise you that now we will be expanding the inquiry to include other State Department officials' personal e-mails," Representative Mike Pompeo of Kansas, a member of the committee, said Wednesday.
Pompeo said the committee would demand access to documents the Clinton staff didn't turn over to the State Department, including those of her aide, Huma Abedin, and possibly several others.
Pompeo said the committee decided to expand the scope and breadth of its investigation as a result of two revelations this week: that Clinton intentionally created the domain clintonemail.com just before she took office, which he said showed intent to avoid oversight; and that other top State Department officials including Abedin may have used the clintonemail.com domain to hold personal accounts.  
The panel's Republican House members are seizing on the revelations regarding Clinton's private e-mail domain to expand their committee's mandate, delay Clinton's testimony and extend their investigation indefinitely. The committee chairman, Representative Trey Gowdy of South Carolina, the chairman of the Benghazi committee, sent subpoenas to Clinton on Wednesday asking for access to her full e-mail records, his office said. 
Pompeo said committee members were outraged that State Department officials had not disclosed "multiple" personal accounts held by Clinton and her aides that were used to conduct official business. Clinton's personal lawyer and the State Department say the secretary only used one personal e-mail account.
Pompeo said he "can't imagine" the committee would hear testimony from Clinton before the question of the e-mails that haven't been provided to State has been resolved, meaning that the Benghazi committee's investigation will be extended by at least several months. The duration of the panel's investigation was never explicit. Also, he accused State Department officials of not being forthright in testimony to the committee in late January.
"They always were careful to say they were only speaking to what the State Department actually possessed and controlled," Pompeo said. "We were led to believe that was an accurate and complete accounting of what they knew and now it seems they were precise but not fully informing the committee."
Members of the committee say they have known about Clinton's private e-mail account for months, though they never discussed it in public. The existence of the domain came to light in 2013 after a hacker broke into the account of Sidney Blumenthal, a former Clinton aide.
According to lawmakers on the committee and several State Department officials, State disclosed the existence of Clinton's personal e-mail address to the Benghazi Committee last August, when it sent the panel documents, including dozens of e-mails that contained Clinton's private address.
Republican members of the Benghazi committee have been arguing for months over the e-mail issue with State Department officials, the committee's Democrats and Clinton's lawyer, David Kendall. They expressed their frustration during a Jan. 27 hearing with a mid-level State Department official, Deputy Assistant Secretary of State Joel Rubin.
"If there are multiple e-mail accounts, we want all of the e-mails, OK?" Gowdy asked Rubin. "We agree," Rubin responded.
That was enough to satisfy committee Republicans at the time, and they withheld the information that Clinton had exclusively relied on a personal e-mail system.
Less than two weeks after that hearing, the State Department produced about 300 e-mails sent by Clinton from her private e-mail account, all containing references to the attacks on U.S. diplomatic installations in Benghazi on Sept. 11, 2102, in which four Americans, including Ambassador Christopher Stevens, were killed. State Department officials said those were the only relevant e-mails from the 50,000 turned over by Clinton's staff earlier this year.
On Tuesday, Representative Elijah Cummings of Maryland, the top Democrat on the Benghazi committee, called for all 300 of those e-mails to be released. Alec Gerlach, a State Department spokesman, said Wednesday that State was open to considering that idea. He rejected the notion that officials had held anything back from Congress, and said the e-mails contained no new information.
"The Select Committee has been aware of former Secretary Clinton's personal e-mail since August, as Chairman Gowdy acknowledged yesterday," Gerlach said. "But, after two years of asking the same questions over and again, not a single congressional committee, report or investigation has come up with anything that changes or refutes the findings that Accountability Review Board reached more than two years ago or that will make our embassies and people safer."
Clinton allies, including the political advocacy group Correct the Record, accuse the committee of taking advantage of the new reporting on Clinton's personal e-mail accounts to extend the investigation without merit.
Meanwhile, on Wednesday, Kendall and the State Department both denied the accusation made by Gowdy and Pompeo that Clinton used multiple personal e-mail accounts while at State. But State's deputy spokeswoman, Marie Harf, admitted the department couldn't be sure Clinton handed over all relevant correspondence.
"What I'm saying is her staff has stated that anything related to her work has been given to the State Department," Harf said at Wednesday's briefing.
Despite Clinton's latest efforts to demonstrate transparency, the fresh burst of interest in her private e-mail account, and the Benghazi's committee new, expanded mission, ensure the investigation will continue well into 2016 and will generate headlines during her campaign for the presidency.
This column does not necessarily reflect the opinion of Bloomberg View's editorial board or Bloomberg LP, its owners and investors.