Twilight of GE's Immelt Era
Will Jeff Immelt be able to hold onto his job long enough to leave on a high note?
by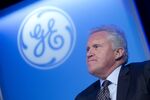 Jeff Immelt, the chief executive officer of General Electric, is going to retire. It could even happen this year!
It could also happen next year. It could happen the year after that (we're up to 2017 now, right?), or it could happen in 2018, 2019, 2020 or 2021. It could even happen after that, because GE no longer requires that its CEOs quit at 65, although that seems highly unlikely.
I think this is about the current state of outside knowledge on the succession process at GE. Barclays Capital analyst Scott Davis set tongues wagging -- or at least financial journalists writing -- with a note earlier this week in which he speculated that Immelt's departure "could come sooner (within a year or so) than later" and that Chief Financial Officer Jeff Bornstein "may now be a front-runner" to succeed him. Being a GE analyst remains a bit like being a Kremlinologist, though, and Davis's note is couched more as a smart exercise in cage-rattling than an inside scoop.
We clearly are in the twilight of the Immelt era, though. In September he is set to begin his 15th year in charge of the industrial giant, the longest tenure of any GE CEO but one during the past 70 years. That one was Jack Welch, who managed the company to spectacular results for two decades, chose Immelt in a famously drawn-out and methodical selection process and then left his successor with something of a mess.
Welch's long, smooth run of earnings growth was an accident waiting to happen. GE's stock price was impossibly high and already beginning to sink. Then, four days after Immelt took over, two planes crashed into the World Trade Center and sent the airline industry -- a major source of GE earnings then and now -- into a tailspin.
On the plus side, everybody kind of knew there would be a post-Welch hangover, and nobody blamed Immelt for the economic troubles of the early 2000s. He was able to pursue his "Ecomagination" initiative and begin to restructure the company -- spinning off its life and mortgage insurance business in 2004 and the plastics division in 2007 -- without investors breathing down his neck too much. By the way, that insurance business was Genworth, now being hammered with losses from its long-term-care business. Nice move there, Jeff.
By late 2007 the Immelt era was finally starting to look solid, with the share price ever so slightly higher than when he started. Then the financial crisis hit, and GE Capital -- along with the rest of the financial system -- found itself in deep trouble. After a government bailout and a cash infusion from Warren Buffett, GE began to recover. But it was a deep hole for the company to dig out of.
Still, lots of other companies were digging out of deep holes, too, and Immelt again didn't get all that much blame. Yes, his predecessor made headlines by saying on CNBC in 2008 that Immelt had "a credibility issue," but in context Welch's words felt more like an explanation of the market's reaction to a GE earnings miss than an outright criticism. On the whole, Welch seems to have been a great ex-CEO, occasionally doing and saying controversial things that made Immelt seem sane and reliable in comparison, but also generally keeping out of his successor's way and even offering absolution of a sort for GE's terrible stock performance with his famous 2009 remark that "shareholder value is the dumbest idea in the world." That's good to know, because GE sure hasn't created much of it during the past 13-plus years:

It's all enough to make an outsider wonder whether Immelt has truly made the best of a tough situation or is some kind of Teflon CEO. I'm inclined to think the former, in part because he's just such a smart, pleasant fellow. But it does seem fair that now, after 14 years, people are asking when Immelt's GE is going to deliver -- and if it doesn't, when he's going to get out and let someone else try.
Immelt has continued his restructuring of the company. GE finished selling NBC Universal to Comcast in 2013. In the past year it has bought Alstom's power-generation and grid businesses, sold GE's iconic appliance business and spun off GE Capital's store-brand credit-card operation as Immelt focuses the company around building, servicing and financing big-ticket infrastructure products. That all seems popular enough with analysts and investors, but as the Wall Street Journal reported this week, Immelt's GE has also spent heavily on companies that build and service equipment for oil and gas drillers, which isn't looking like the most promising of sectors just now.
CFO Bornstein, in a conversation with Barclays Capital's Davis at a conference last month, said GE was looking to "take advantage of this volatility" in the oil business to shove aside competitors and come out stronger "on the other side of this." That makes sense. It could also take a few years.
How many years has Immelt got? He would presumably like to leave on his own terms, and if possible do so on a high note. If the last GE transition is any indication, the process of choosing a successor is already underway. In an article today, Bloomberg's Richard Clough and Thomas Black offer up a few potential names gleaned from interviews with analysts who follow the company. But again, if the last transition is any indication, it's at least possible that the eventual chosen one may be someone hardly anybody outside GE has heard of yet.
In an age of impatient investors and activist hedge funds, it does seem amazing to think that Immelt will be able to arrange his departure in such an orderly way. Given the company's performance under Welch, GE's board was naturally inclined to let him stay as long as he wanted and call the shots on succession; with Immelt it shouldn't be surprising if the directors show less patience. But the man has lasted this long, hasn't he?
This column does not necessarily reflect the opinion of Bloomberg View's editorial board or Bloomberg LP, its owners and investors.
To contact the author on this story:
Justin Fox at justinfox@bloomberg.net
To contact the editor on this story:
James Greiff at jgreiff@bloomberg.net
Before it's here, it's on the Bloomberg Terminal.
LEARN MORE