Sweet Briar College Quits the Right Way
How do you know when it's time to quit?
by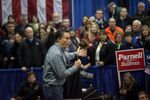 Sweet Briar College, a women's college in Virginia, announced Tuesday that it would be shutting itself down. The school is not entirely out of money. But the trends are going the wrong way for women's colleges as well as small, expensive liberal arts colleges that aren't named "Amherst," "Williams" or "Swarthmore." Having seen the writing on the wall and concluded that it'll eventually run out of money, it is closing this summer so that it can use the money to pay severance to employees and help current students find new academic homes.