Government Wants Obamacare Ruling Now
Solicitor General Don Verrilli seemed to push the Supreme Court to decide King v. Burwell now and not dismiss it on standing grounds.
by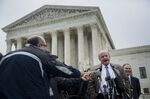 Justice Ruth Bader Ginsburg opened the King v. Burwell argument Wednesday in the U.S. Supreme Court by asking whether the challengers are actually being injured by the Affordable Care Act and have standing to bring the case. Then something weird happened. Even though the lawyer for the challengers couldn't definitively say his clients had standing, Solicitor General Don Verrilli seemed not to want the court to dismiss the challenge to Obamacare on that ground. Indeed, he bent over backward to say that silence from the challengers' lawyer would suffice to infer that at least one of the four challengers was actually injured and that the case could proceed.