When Leaning In Isn't Enough
Even when women choose not to leave before they leave, sometimes it's not up to them.
by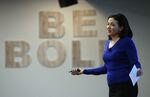 When Sheryl Sandberg's "Lean In" was published in 2013, I was a bit perplexed by one of the bigger premises of the book: "Don't leave before you leave." Women, she wrote, shouldn't talk themselves out of opportunities because they're worried about the impact that having a family could have on their careers. Duh, I thought. That's like planning for the heart attack you might have in your 50s.