Clinton's E-Mail Server Was Never Safe
Hillary Clinton's e-mail set-up did not protect her from surveillance or hackers, only from government requests for her email archive.
by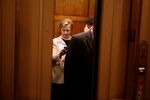 It's hard to top the irony of Hillary Clinton's homebrew e-mail set up. The only reason anyone would run their own e-mail servers in an era of highly functional and free mail systems is to avoid all government surveillance. In some sense, a top U.S. government official, perhaps the next president, decided to suddenly go survivalist.