Editorial Board
Netanyahu on Iran: Tough, Fair, Unconstructive
What is the alternative to a deal with Iran? Netanyahu has yet to provide a realistic answer.
by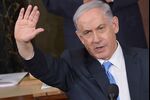 If Israeli Prime Minister Benjamin Netanyahu's controversial speech to the U.S. Congress drove a wedge between the two countries, it was hard to tell from the two dozen standing ovations he got Tuesday. At times it looked as though most members of Congress liked his uncompromising approach a lot better than they like their own president's.
Any deal to limit Iran's nuclear program, however, will inevitably involve compromise. Maybe that's why Netanyahu was unable to offer much that was constructive in his 40-minute speech, even as he eloquently laid out Israel's concerns. Instead, he was characteristically (and undiplomatically) blunt in his attack on the negotiations, which are scheduled to end this month in Switzerland. The embryonic agreement is "a bad deal," he said. "It's a very bad deal. We're better off without it."
The question is, what's the alternative? Netanyahu knows there is little support for airstrikes on Iran. The only option, he said, is to negotiate a better deal -- specifically, one that wouldn't leave Iran with the capacity to enrich uranium and wouldn't lift sanctions on the country until it has stopped supporting terrorism, intimidating its neighbors and threatening to annihilate Israel.
No one in the Capitol -- or the White House for that matter -- would disagree with these goals. But Netanyahu outlined no plan to achieve them. How would he persuade Iran to give up enrichment after a decade of refusal? How would he persuade the regime to accept an agreement that lifts restrictions only after what amounts to regime change? From a geopolitical perspective, the speech was incomplete -- even if, from a domestic standpoint, it helps Netanyahu in advance of Israel's elections on March 17.
As President Barack Obama has emphasized, it's still far from certain that Iran and its negotiating partners -- China, France, Germany, Russia, the U.K. and the U.S. -- will reach agreement at all. If they don't, Netanyahu's critique of the process will have strained an already frayed relationship for naught.
The U.S. and Israel remain strong allies, even if they sometimes disagree. One speech doesn't change that. Netanyahu gave a bravura political performance, but the fundamental question remains: What is the alternative to an attainable deal? Israel's prime minister has yet to provide a realistic answer.
--Editors: Marc Champion, Michael Newman.
To contact the senior editor responsible for Bloomberg View's editorials: David Shipley at davidshipley@bloomberg.net .
Before it's here, it's on the Bloomberg Terminal.
LEARN MORE