Money Chase for 2016 Is Wild, Wild West
Running for president by committee. Any committee.
by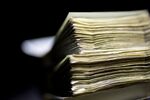 With the campaign finance regime in tatters and the Federal Election Commission known more for partisan gridlock than enforcement, presidential candidates are choosing from a broad smorgasbord of options to fund campaign activities. The hodgepodge of committees follows widely disparate rules.