Australia, Where One Central Bank Won't Do
Monetary policy can't fix the country's two-speed economy.
by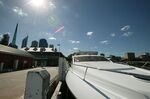 Does Australia need two central banks? The dilemma that faced Reserve Bank of Australia Governor Glenn Stevens on Tuesday certainly begs the question: The argument for hiking rates was almost as compelling as the one for cutting them.