Australia, Where One Central Bank Won't Do
Monetary policy can't fix the country's two-speed economy.
by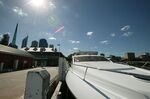 Does Australia need two central banks? The dilemma that faced Reserve Bank of Australia Governor Glenn Stevens on Tuesday certainly begs the question: The argument for hiking rates was almost as compelling as the one for cutting them.
In the end, Stevens did neither, surprising markets that were betting on a 25 basis-point cut in the 2.25 percent overnight cash rate. The decision will strike many peers around the region, who have been racing to slash borrowing costs, as odd. With Australia facing the highest unemployment rate in 12 1/2-years, slumping business spending and deflation spreading around the globe, a little more RBA stimulus would seem in order.
That's until you consider the out-of-control housing market, which is in the grip of an irrational exuberance arguably beyond anything the U.S. experienced in the mid-2000s. In February alone, Sydney homes surged 14.7 percent from a year earlier, the fastest pace in five months. According to economist Lindsay David, author of the new book "Print: The Central Bankers Bubble," Sydney land prices rose 512 percent faster than inflation between 2001 and 2011, while the city's population only grew 16 percent. Perth in the West outpaced inflation by 1,094 percent with population growth of 28 percent. Stevens is damned if he responds to slowing growth (which would add more fuel to the property bubble) and damned if he doesn't (the first recession in over 20 years may be on his watch).
What's a savvy, respected central banker to do? Stevens can hardly clone himself to do two jobs -- one to cap the exuberance in asset markets, one to shield the nation from hardship. The problem, as is often observed, is Australia's two-speed economy. One features the mining-heavy regions -- Queensland and resource-rich western states -- which until recently have thrived on China's voracious appetite for iron ore and coal. High salaries there have propped up property markets that have more in common with the casinos of Melbourne and Perth than rational exchanges. (To make things worse, rich Chinese buyers have helped drive values higher and higher.) Meanwhile, workers in much of the rest of the country are falling behind.
The more these three moving economic parts diverge, the more inequality grows and the less monetary policy matters. As Stevens said on Feb. 13: "The economy needs a bit more growth than we currently have. The board is also very conscious of the possibility that monetary policy's power to summon up additional growth in demand could, at these levels of interest rates, be less than it was in the past."
In that context, the RBA's decision to stand pat could be its way of pressuring Prime Minister Tony Abbott. Even as households struggle, Abbott's 17-month-old administration has been paralyzed by questions about his leadership. He has focused more on trimming the national budget than the hard task of diversifying the economy's growth engines and bringing them into closer alignment. He killed the previous government's effort to tax miners to redistribute wealth to depressed areas. He's done little to invest in education, training or better infrastructure -- all crucial to improving Australia's competitiveness.
Government gridlock has left addressing rising unemployment to the RBA's blunt interest-rate tool. This isn't a unique problem, of course. Stevens, says Ben Alexander of Ardea Investment Management in Sydney, faces "a familiar dilemma for central banks. The Bank of England setting monetary policies for London or for all of the U.K.? The European Central Bank for Germany or peripherals? Politicians who can't or won't help central banks with fiscal policy -- a worldwide problem.  Not easy for central bankers particularly since they are arguably pushing on strings anyway."
Stevens isn't entirely helpless. "Australia doesn't need two RBAs," says Lindsay. It needs economic managers with "a backbone stronger than a chicken wing." Steeper fees for foreign buyers are one option. So-called macroprudential policies are another. As I've argued before, Australia should be slapping harsh curbs on leverage, requiring much larger downpayments and lower loan-to-valuation ratios.
Still, the best remedy for the RBA and the nation is for Abbott's government to regain focus and get control over its disparate economies. Australia must rediscover the liberalizing instincts that dominated Canberra in the 1980s and 1990s and transition back to a non-mining economy. Rather than prune programs, Canberra should increase research and development spending to create high-paying jobs in science, technology, engineering and education. Also, let's stop downplaying the potential of tourism, high-end manufacturing and other trade-related sectors that atrophied as mining boomed over the last 15 years. Only after the basic structure of the economy is properly aligned can the RBA hope to have an impact with monetary policy. That's not a job for Stevens, but for a government that, like Australia's economy, has lost its way.
To contact the author on this story:
Willie Pesek at wpesek@bloomberg.net
To contact the editor on this story:
Nisid Hajari at nhajari@bloomberg.net
Before it's here, it's on the Bloomberg Terminal.
LEARN MORE