A Tax Plan Republicans Should Learn to Love
It's the most pro-growth tax plan since the 1920s. Why are some Republicans opposing it?
by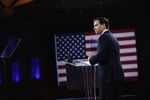 Senators Mike Lee and Marco Rubio have come up with the most pro-growth tax reform since Calvin Coolidge's presidency. That's a point that could easily get lost in the intra-party debate over their plan -- a debate that could shape the next presidential race and influence conservative policy for years to come.