Editorial Board
Modi Offers India a Timid Budget
Why does Narendra Modi's first budget feel so underwhelming?
by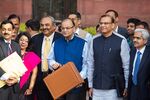 Judging by his much-hyped new budget, Indian Prime Minister Narendra Modi is betting that he can rekindle growth without the sort of big-bang market reforms India needs. Perhaps he can. Any uptick, however, isn't likely to be sustainable until the government tackles the key inefficiencies hobbling the Indian economy.
In broad terms, there's little to quibble with and much to welcome in the budget. The government appears to recognize that the critical impediment to restoring growth is a lack of investment, which, as a percentage of gross domestic product, plummeted 6 percentage points from 2010 to 2014. It has wisely decided to give itself more time to meet its fiscal consolidation targets and to spend the extra money investing in infrastructure. The government also seems to appreciate the need to tax and spend more intelligently, setting a deadline to establish a nationwide goods-and-services tax and trimming back some of the exemptions to the direct tax system.
Crucially, the government has also accepted a recommendation to increase the share of revenues assigned to state governments, to 42 percent from 32 percent. Not only do states tend to spend more effectively than the central government, but they also have more room to experiment with reforms to land and labor laws, which Modi has struggled to get past the opposition-dominated upper house of parliament. In return for his largesse, Modi should press states run by his Bharatiya Janata Party -- which together account for more than half of India's GDP -- to move reforms faster and in a more unified fashion.
So why does the budget feel so underwhelming? Because it's more incremental than bold. Rather than reducing the role of the state in the economy, for example -- selling off government-run companies, eliminating wasteful subsidies on food and fertilizer -- the budget counts on the state to perform more efficiently. In some cases, that approach may bear fruit: A new "plug and play" model for setting up big power plants, for instance, requires the government to obtain all the necessary clearances first and then to auction off projects to private developers. But there's little evidence ailing state giants such as Air India can turn themselves around under government ownership, or that the bureaucracy has gotten notably faster under Modi.
The cliche is that a politician campaigns in poetry and governs in prose, so it may seem odd to be disappointed by the prosaic details of an annual budget. But Modi has set inordinately high expectations for his leadership. The hope was that the budget would lay out a more coherent and far-reaching vision for how to restructure the Indian economy -- one that could be sustained over the many years it will take to implement.
On that score, his budget is incomplete. Modi owes it to Indians not just to point the economy in the right direction and explain how long the journey is going to be, but also elucidate why it's so important to get going.