Why Is Korea Inc. Going Shopping?
Headwinds at home are driving companies abroad.
by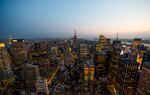 News that an affiliate of the Hyundai Group may be bidding for New York's NYLO hotel is but the latest sign South Korea may have caught the overseas property bug. As my colleagues at Bloomberg News report, the company's asset-management unit has already snapped up U.S. office buildings worth $361 million in the last six months. That's a far cry from the big-ticket purchases made by Chinese companies recently -- including the $1.95 billion purchase of the Waldorf Astoria. But still, the outbound push can't help but evoke comparisons to Japan's vanity purchases in the 1980s.