Give Jonathan Gruber a Break
It's been another bad week for Jonathan Gruber, a guy who's had a lot of bad weeks recently.
by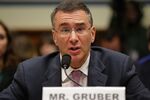 Jonathan Gruber -- yes, that Jonathan Gruber -- is in trouble again. This time he's being pummeled by liberal state governments for whom he's done work. Massachusetts Governor Charlie Baker demanded Gruber's resignation from the board of the state's Health Connector insurance website. And more troubling, the Vermont state auditor has raised questions over bills Gruber submitted to the state government for consulting work. The matter is being referred to Vermont's attorney general.