NBA's First Black Player Defined Courage
Earl Lloyd hated being compared to Jackie Robinson. But the comparison is hard to resist.
by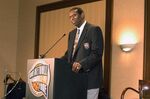 Earl Lloyd hated being compared to Jackie Robinson. "Anybody who makes that comparison," he once said, "is crazy." But the comparison is hard to resist. Lloyd, who died Thursday at 86, was the first black player to appear in a National Basketball Association game. He was a pioneer, part of a group whose importance has only in recent years captured much public attention. Yet the accolades showered on him in the hours since his death would probably have embarrassed him.
As Lloyd himself often pointed out, he wasn't the first black player to be drafted; he wasn't the first to be signed. As a matter of fact, the NBA signed three black players during that pioneering year of 1950. But through an accident of scheduling, he was the first to take the court.
The press scarcely noticed -- possibly because, back then, the press scarcely noticed basketball. (At that time, the Harlem Globetrotters drew larger crowds than some NBA teams.) Opposing players hardly seemed to care -- possibly because many had faced integrated college teams. Ron Thomas, in his book on the first black players in the NBA, quotes Lloyd as saying "I didn't have one problem with one player overtly" -- very different from the experience of Robinson, who was spat on, kicked, spiked and called all sorts of names.
Certainly Lloyd suffered the indignities common to the Jim Crow era -- not being able to eat in the same restaurants as his white teammates, for example -- but, on the court, he always said, he was just another player. And he offered an intriguing explanation for the difference:
I'm not saying there weren't some players who had some problems, but they were bright enough to understand that they've got some teammates who might frown on them if they espouse their views on that type of thing. I think the intelligence level of pro basketball at that time was a mite higher than baseball.
Lloyd had a way with words, and an insight that went well beyond the basketball court. In his memoir, published in 2011, he said that although segregation was a horror -- "I wouldn't wish it on anyone" -- he learned valuable lessons from it: "You could not quit. You could not give up." His parents reminded him daily that he wasn't inferior to anyone. Those lessons gave him strength: "You tried to remember it years later when you walked into a locker room filled with white guys, some of the most famous basketball players in America, when you hadn't even had a real conversation with a white man in your life."
Lloyd also has an answer to those who over the years have lauded his courage -- and tied the question of courage to the challenges of our current era:
Courage doesn't mean being unafraid. Courage means being afraid, and going ahead anyway. The kids are all caught up in these ideas of "manhood, " but they've got it confused. I look at the kids now and I think, "Just getting up and going to school and trying -- that's courage, that's character." Because I think if people stop and really think, these kids are afraid.
Lloyd was raised in a different era. His parents weren't interested, he wrote, in being friends with their children; they were interested in raising them and shaping their character. He considered his mother, Daisy, the person most responsible for his success. "My mother's last statement every day when I walked out the door was, 'Do not embarrass this family.' She wasn't talking about winning or losing. She was talking about conduct." He added, "In my day, if you saw a situation where you knew your parents wouldn't want you to be there, you got out of it."
Daisy's lessons stayed with her son. She always emphasized the importance of proper deportment and dress: No one who bothered her children would have any excuse but his own bigotry. Ron Thomas, in his book, relates a story that illustrates the point. During the mid-1950s, when Lloyd played for the Syracuse Nationals (who with his help would become the first racially integrated team to win the NBA championship), his teammates used to ask him why he always wore a shirt and a tie. Lloyd's answer reflected his mother's lessons on how to exert delicate yet sharp pressure against the segregation of the day. "I'm not going to give you a club to use on me," he explained. "If they put me out of some restaurant, it's not because I'm boisterous, it's not because I'm not properly attired. They're putting me out because they saw black folks."
In his memoir, Lloyd worried about young people raised in households without strong role models, yet without means of escape. Many turn to sports, where a coach often becomes a father figure. But even there, Lloyd warned, there are pitfalls: "If they run into a coach who's only interested in winning, then that problem becomes even bigger." How one behaved -- the content of one's character -- was, to Daisy, far more important than any other sort of success. He spent his career trying to live up to her standards.
Lloyd wasn't naive. He knew that these small victories didn't amount to a movement. Racial progress would have been impossible without legal change. Modest about his own talents and accomplishments, he told Thomas that there were limits to what he could do to protest overt acts of racism in some of the towns where he went to play: "I came through an era where that was a way of life for me." The black stars who would enter the league a few years later had more clout. If an Elgin Baylor or a Bill Russell complained, the world listened. They had "stature." But, as Lloyd pointed out, they also "came through an era where the law had said 'You can't do this.'" By contrast, "in 1952, there was no law."
Earl Lloyd wasn't the greatest player in the history of the game. He led the NBA only once, in only one category, and that was in 1953-54 when he was called for the most fouls, and fouled out of the most games. But he was a pioneer and an activist, a wordsmith and a philosopher -- and by all accounts a very fine family man. He was the sort of role model we could all hope for. And in our look-at-me-look-at-me era, we could do with more like him.
This column does not necessarily reflect the opinion of Bloomberg View's editorial board or Bloomberg LP, its owners and investors.
To contact the author on this story:
Stephen L Carter at scarter01@bloomberg.net
To contact the editor on this story:
Stacey Shick at sshick@bloomberg.net
Before it's here, it's on the Bloomberg Terminal.
LEARN MORE