Why Political Lies Shouldn't Be Punished
Does a Minnesota law that protects against false endorsement claims put a chink in the First Amendment's armor?
by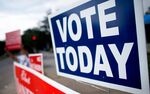 The U.S. Supreme Court's decision this week to let stand the lower court ruling in the unsung case of Clayton v. Niska didn't make any headlines. But for those of us who believe in a robust debate under the First Amendment, the implications are unsettling.