Can Asia Afford Low Taxes?
A competitive advantage may now be a liability.
by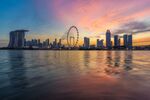 Before now, no one would have described the leaders of Hong Kong or Singapore as Asian Robin Hoods. Both cities have earned well-deserved international reputations for high efficiency and low taxes, with income taxes topping out at 15 percent in Hong Kong and 20 percent in Singapore. Their decades of sustained prosperity would seem proof of the virtues of trickle-down economics.