It's Easy for the Dutch to Go Hard on Greece
Euro group chief Jeroen Dijsselbloem's tough line on Greece came naturally.
by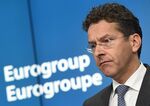 Jeroen Dijsselbloem, a curly-haired, fresh-faced 48-year-old with a degree in agricultural economics,  has spent his entire career working in government jobs with the Dutch Labor Party. For the parliamentary election of 2003, he and two other young socialists (that's what Labor Party members call themselves) who had graduated from technical universities campaigned as "the red engineers," touring the country in red coveralls and pledging to fix stuff. They were elected amid big Labor gains. Other notable Dijsselbloem accomplishments include winning the National News Quiz on TV in 2008 (one of his fellow red engineers won in 2005 and 2006), receiving the 2013 Clear-Language Prize for having such a big English-language vocabulary and using it so well, and pushing his party somewhat to the right on immigration, education and crime. He's also a part-time pig farmer.