Football's Head Fake on Jameis Winston's Past
The scouts are fawning over the quarterback's intangibles. They are quiet about the rape accusations.
by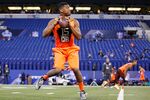 Scouts and commentators are falling over themselves to laud Jameis Winston's performance at the NFL Combine. They're talking arm strength, 40 times, football IQ, interception rate, what have you. The only thing they're not talking about? Sexual assault.
Oh, sure, scouts have voiced their concerns over Winston's "off-the-field issues," "behavioral problems," "character flaws," "immaturity," "bad decisions," "mistakes," "baggage" -- any sanitized euphemism they can think of to ease their mind that the guy many say should be the top pick is an accused rapist with a "troubled history." More specifically, a troubled history that involves entitlement issues and shocking comments about women -- culminating, of course, in several accusations of sexual assault.

To be clear: Winston was never charged with a crime for what happened in his apartment in December 2012. But there has been much criticism of the police inquiry into the woman's claims: a Fox Sports investigation found that "Florida State University officials and Tallahassee police took steps to both hide, and then hinder, the criminal investigation"; the local prosecutor told the New York Times that there were "a number of shortcomings in the police investigation" of the allegation of sexual assault.
Yet as the draft approaches, it's as if none of these allegations concerning Winston's conduct had ever existed. Instead, we hear men in football tout Winston's intelligence -- he's "as smart as anybody I've ever been around," said Jimbo Fisher, Winston's coach at Florida State. Many were impressed by his interviews -- one scout told Bleacher Report's Mike Freeman that Winston addressed his concerns "to his satisfaction." While I understand that Freeman was simply reporting what he was told, the article's headline called Winston "charismatic," not usually the first adjective that comes to mind when I think of someone accused of sexual assault.
Here's the problem: These men really, really don't want to think of sexual violence when they think of Jameis Winston. They'd like to forget the accusations -- for fans to forget, too -- and concentrate on important things like third-down conversions. It's far easier to envision your team drafting an immense talent when you don't associate him with sexual assault.
In sports, our priorities are warped by love of the game, perhaps no more so than in football. It's how Ray Rice still gets applauded and Ray Lewis is employable as a television analyst. Then we can get back to watching football, our consciences soothed because the NFL devoted some ad space to women's issues -- without actually fixing the way it addresses domestic violence or sexual assault.
As many studies have noted, using euphemistic language to describe rape effectively downplays the seriousness of the issue. Victims have a hard enough time being taken seriously by the justice system. But the flippancy with which rape can be dismissed as a "bad decision" has tangible consequences, allowing us to to keep things as they are without striving for meaningful reform. A 2011 study by the Berkeley Medical Center analyzed 348 newspaper reports of child sexual assault from 2007-09 and found that an inordinate number used ambiguous language, failing to describe the incidents meaningful detail. Less than one-third of these pieces discussed solutions for sexual assault. The researchers recommended that reporters "be precise in descriptions" of abuse, which "may have the benefit of humanizing victims" of sexual assault.
In other words, applied to the Winston case, the right language can help prevent the public from forgetting that on the other end of those "off-the-field issues" are at least two women who say they were victims of sexual assault.
This is not an issue or a time to be squeamish. Discussing alleged crimes that might cause scouts to take some pause is the duty of journalists, commentators, scouts, coaches, executives, fans -- anyone looking to that April evening when Jameis Winston will stand on a stage in Chicago and receive an NFL jersey and millions of dollars. The very least we can do is make it a little more difficult to root for a man who might be incredibly intelligent and charismatic and physically gifted, but also might be guilty of sexual assault.
To contact the author on this story:
Kavitha Davidson at kdavidson19@bloomberg.net
To contact the editor on this story:
Tobin Harshaw at tharshaw@bloomberg.net
Before it's here, it's on the Bloomberg Terminal.
LEARN MORE