Some Unsexy Truths About Silicon Valley
Ellen Pao's lawsuit against Kleiner Perkins is another reminder of how bad it can be for women in tech.
by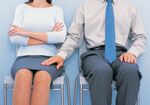 Over the next few weeks, Silicon Valley will be engrossed in a trial involving Reddit's chief executive, Ellen Pao, and the powerhouse venture capital firm that once employed her, Kleiner Perkins. It's the venture world's version of the O.J. Simpson car chase -- a riveting, slow-moving wreck that's sure to end poorly for someone.