What Milton Friedman Would Do for Greece
Applying Milton Friedman's "plucking model" to Europe shows that specific economic policies don't matter much for recoveries.
by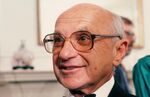 International Monetary Fund Managing Director Christine Lagarde wants the Greek government to offer a more specific plan for meeting its commitments to its creditors, but that might not be necessary. It should be enough to make sure Athens doesn't do anything to prevent its economy from running closer to capacity, in terms of unemployment and output levels. That's what Nobel prizewinning economist Milton Friedman's "plucking model" of economic cycles -- which is remarkably accurate in describing Europe's economy -- would suggest.