Trapped Democrats Can't Decide on Netanyahu Speech
Many Democrats in Congress say they are undecided on attending the speech. Aipac has some advice for them.
by and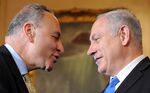 Caught between their party loyalty to President Barack Obama and the popularity of Israel in Congress, most Senate Democrats refuse to say whether they will attend Israeli Prime Minister Benjamin Netanyahu's speech to a joint session of Congress next week.