Secret to the Apple Car Is the Battery
The secret to an electric car that will take off with consumers is to make an affordable, long-lasting battery.
by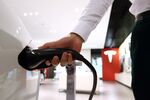 When news leaked that Apple could produce an electric car as early as 2020, lots of people had visions of driving a sleek, white, environmentally friendly automobile with a big iPad running down the center console. The number of employees Apple had already poached from Tesla and other car makers implied that Chief Executive Tim Cook had ambitions that went far beyond auto software like its existing CarPlay. Reports outlined the many ways that tech's golden child could disrupt the car industry. Auto execs were put on notice: Apple the Unstoppable is coming for you.
The car rumor couldn't have come at a better time for the company. At its current huge size -- the company generates $200 billion in annual revenue and has a $770 billion market cap -- Apple seemingly must go after ever-larger product markets to replicate the iPhone's success and continue to grow.
Cars represent a big global market. Americans alone are expected to buy 16.7 million to 17 million cars this year as demand grows. The industry is dominated by a handful of players who are perceived to not embrace innovation.
To be sure, Apple could make a beautifully designed vehicle that handles well enough to make a car enthusiast's heart skip a beat. The company's head of design, Jony Ive, is a self-professed car lover, and he's been responsible for the look and feel of Apple's most iconic devices. Eddy Cue, Apple's head of Internet software and services, is on the board of Ferrari, so he's surely been thinking about the best way to integrate Apple software in a car.  
But if Apple's goal is to make an electric car that disrupts the auto industry like the iPhone disrupted smartphones, then the tech that matters the most is the battery. And car battery tech has thwarted many other companies. Building a better battery is a tough chemistry conundrum, not the sort of electronics problem that tech companies are used to solving. 
Just ask the guys at A123 Systems, the startup that got funding from the Department of Energy's loan-guarantee program before it went bankrupt trying to make batteries for electric cars. Apple was sued for poaching employees from A123 and Tesla to be part of its car team. 
A123 ran into problems trying to make batteries that were effective and affordable, as the MIT Technology Review pointed out when the company went bankrupt. The batteries were so expensive that they made electric cars cost too much to compete with conventional gas-fueled cars (a dynamic that's exacerbated by low gas prices). Even though the cost to produce a battery has fallen, battery technology hasn't improved much in terms of longevity or design.
 "The problem is that despite all the innovation, high-performance batteries remain expensive relative to the potential savings from electric cars," says Alan Kornhauser, an engineering professor at the University of Virginia.
Tesla, the company most closely associated with electric cars, didn't really remake the battery. Former executives say that its big innovation was to create a better battery pack that can use existing batteries to power vehicles for longer. But the cars are pricey. A Tesla Model S starts at about $61,000. Kelley Blue Book data shows that the average price for a new vehicle sold in U.S. market hit a record $34,367 at the end of last year.
Tesla is now building a battery-making factory to wring cost savings out of the manufacturing process, rather than focusing solely on a better, cheaper battery. 
The secret to an electric car that will take off with consumers is to make an affordable, long-lasting battery. The products currently on the market just don't cut it, as evidenced by the small sales numbers for electric vehicles and by the fact that Tesla's own battery sales have always been low.
That brings me back to Apple. If it can't solve the battery conundrum, it will likely make a luxury automobile that has a niche, rich audience. (Tesla hopes to sell 55,000 cars worldwide in 2015. By contrast General Motors sold more than 274,000 vehicles in the U.S. in December alone.) That's not necessarily a bad thing. At the right price point, a car could help Apple maintain its status as a high-margin, super-profitable manufacturer.
But how many high-margin, niche items can Apple make without producing another global hit? I doubt the Apple Watch will be a killer product. It will likely appeal to a smaller, very lucrative luxury market. Some reports predict that the most expensive models will account for most of the revenue generated by the watch.
It would be a thrill if Apple makes a great car. But if it can't make a significantly more affordable or longer-lasting battery, an automobile won't answer the question of how Apple can get even bigger than it is today.
This column does not necessarily reflect the opinion of Bloomberg View's editorial board or Bloomberg LP, its owners and investors.