view
Meredith Whitney's Main Investor Is Unimpressed By Her Other Investors
As a former lawyer myself, I sympathize with the desire not to get lawyers involved.
by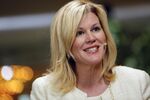 Here's how much people hate lawyers: 1
I received a call from Paul Dehadray, BlueCrest's chief legal counsel. He explicitly said that he "did not want to get lawyers involved." I quickly reminded him that he was a lawyer, and I was not.
Yeah, but he's, like, a cool lawyer, not like those other lawyers, who are all mean and humorless and will use all sorts of law on you. He's the kind of lawyer you can just hang out and rap with, you know? 
The quote is from former star banking analyst Meredith Whitney's affidavit in her fight to save her hedge fund from its biggest investor. That investor, Michael Platt's BlueCrest, seeded Whitney's hedge fund -- her firm is called Kenbelle Capital, and the fund is called American Revival Fund -- with $50 million in late 2013. And now BlueCrest wants its money back. It doesn't think this should be a big deal, because of this sick burn:
Additionally, during the telephone conversation with Mr. Platt on November 20, 2014, when I explained that it was not so easy as to just give BlueCrest back their money as there were other outside investors who would be damaged by their early withdrawal, Mr. Platt's response was, "What do you have in outside money, one dollar, two dollars?" In that, he clearly implied that "his" money was superior to the other outside investors' monies.
Well, no, I mean, he clearly implied that Whitney didn't have any outside investment, but whatever. Oddly, I can't find the bit of Whitney's affidavit where she says how much outside money she actually has. 2
The affidavit is a very strange document, 3 but the point of the dispute is simple. Whitney thinks she doesn't have to give BlueCrest its money back, because the documents governing BlueCrest's investment say:
BlueCrest shall not redeem any Shares issued in respect of the Seed Money during the period of two years commencing on the initial subscription date.
And those two years run until November 1, 2015. So BlueCrest can't take its money back until then.
BlueCrest, on the other hand, thinks Whitney has to give the money back now, because the documents also say:
BlueCrest shall not be subject to any lock-up period or other limitations (including, without limitation, redemption gates, suspensions or hold-backs) on redemptions that may otherwise be imposed by the Fund.
And:
In the event that BlueCrest redeems the Shares issued in respect of the Seed Money other than as permitted by this Agreement, this Agreement will terminate with effect from such redemption.
The agreements filed with the court are mostly redacted, so I can't be entirely sure what they say, but it seems pretty clear to me that Whitney has much the better of this argument. BlueCrest's reading -- that it agreed to a two-year lockup in one place, but also wasn't subject to a lockup, and had the right to terminate the agreement just by breaching it -- doesn't make much sense at all. 4
[Update: The judge in the case seems to agree; this afternoon he lifted a temporary restraining order on Whitney's fund, saying, "I'm not quite convinced that there's a redemption right that's ripe at the moment."]
But you see why people hate lawyers! I mean, I don't know, look at all those words. The two-year lockup and termination provision that I quoted above are sections 3.1 and 3.4 of an Investment Agreement between BlueCrest and Whitney's fund; the "no lockups" language is from a Side Letter between them. Why have two agreements that say different things? But then, why have two sections of one agreement that arguably say different things? Who wrote this stuff? (The answer is BlueCrest: Whitney says in her affidavit that Platt told her, "We can do anything we want, we wrote the contract.")
I sometimes make fun of the badness of legal contracts governing investors' rights, and the fact that those investors tend not to read them. (Even when, as here, the investor wrote the documents.) But a plausible model would be these investment contracts were optimally bad, because it wasn't that important for them to be good, and honestly who has the time to read them? From the perspective of a year and a half ago, when all these contracts were signed, this looked like an investment in which Whitney's and BlueCrest's interests were pretty well aligned. As the seed investor, BlueCrest had every reason to want her to succeed, and since it was by far her biggest customer, she had every incentive to be nice to BlueCrest. Surely any disputes could be settled amicably, at least in the first two years. You need some agreements to handle the long term, but exactly mapping out who can withdraw what during the first two years just didn't seem that important. It would be a little crazy for BlueCrest to ask for its money back so fast, and also a little crazy for Whitney to say no if it asked.
But here we are! What's going on? One obvious exception to "it would be a little crazy for BlueCrest to ask for its money back so fast" would be if Whitney lost a lot of that money, and there's an element of that here. Whitney's fund was down 11 percent last year through November, and BlueCrest makes much of its worries that the fund will just run out of money. 5  But the contracts did provide for immediate redemption for poor performance. It's just that Whitney's actual performance isn't bad enough to meet that standard (basically down 10 percent in any three-month period 6 ). In fact, she's up more than 3 percent so far in February! 7  Everything is fine, basically. It's fine.
Whitney's own explanation, for what it's worth, is that BlueCrest itself is losing a lot of assets "as a result of the departure of Leda Braga, its former head of computer-based trading who started her own firm," and so wants its money back for its own selfish reasons.
But that aside, why not just give it its money back? Like, I mean, I get that Whitney has other investors to protect, and liquidating assets would hurt them. But, you know. Not that many other investors. And they're not ... I mean, they're not gonna stay in once BlueCrest goes, right? And BlueCrest isn't going to change its mind just because she successfully sues them into staying until November, right? How does this work out well for Whitney in the long run? She's giving BlueCrest back its money sometime this year, and it's hard to see this lawsuit attracting replacement capital in the meantime.
I don't entirely get the long-term plan, but the short-term one is easy enough to figure out. From Whitney's affidavit:
BlueCrest began pressuring the Funds's administrator (SS&C Technologies, Inc.) in Guernsey to withhold management fees.

In mid-December, I personally had to cover payroll expenses, as SS&C steadfastly violated their contractual obligation by holding back management fees.
Whitney's not getting paid, and she has to pay her (remaining) employees herself. You could see why turning that around might be an important first step.
(Updates paragraph 10 to add today's court decision.)
To contact the author on this story:
Matt Levine at mlevine51@bloomberg.net
To contact the editor on this story:
Zara Kessler at zkessler@bloomberg.net
Before it's here, it's on the Bloomberg Terminal.
LEARN MORE