Making India's Trains Run
The country needs to overhaul its antiquated railways.
by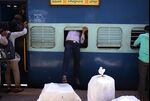 On Thursday, when India's Railways Minister stands before Parliament and presents his budget for the year, he'll be enacting an archaic ritual. The practice began during British colonial times, when the expenditures and revenues of the railways were more significant than the finances of the colony itself. No other Indian ministry or department receives the same privilege. It's debatable whether the railways should anymore, too.