How Dr. Seuss Could Save Obamacare
Supreme Court justices crossed the usual liberal-conservative lines in an opinion Wednesday that could have implications for King v. Burwell.
by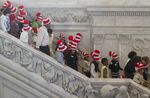 What does a red grouper have to do with the Affordable Care Act? Maybe a lot. The U.S. Supreme Court ruled Wednesday on a quirky case in which it had to decide whether the fish counted as a "tangible object" under the Sarbanes-Oxley Act. The decision broke down in a particularly strange way across the usual liberal-conservative lines. Reading the tea leaves -- or maybe the fish entrails -- it's possible to get some clues about how the court will interpret the ACA in the major case it will hear March 4.