view
How Far Can Hip Hop Take a Founding Father?
All signs are that the Founding Fathers hip-hop musical will be a smash, but will Mr. and Mrs. Grand Rapids want to see it?
by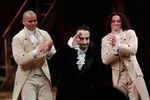 You've developed this new product that you think is awesome. After piquing the world's interest with an early preview on YouTube, you spend more than five years developing and polishing it.
Now you have finally rolled out a preliminary version -- the beta -- and it's doing REALLY well. Customers can't get enough. A New York Times product reviewer calls it a "revolution." His counterpart at the Wall Street Journal says it's "the most exciting and significant" thing of its kind in a decade. The New Yorker runs a long profile of you that intimates that what you've built is of even more epochal significance than that. Thought leader 1 David Brooks, in an inimitably Brooksian turn of phrase, describes your creation as "bold, rousing, sexy, tear-jerking and historically respectful." And to top it all off, Tom Hanks and Rita Wilson stop by and pose for a picture with you and your team!
With all the excitement around your product, your main financial backer figures that it's ready for the big time. There's a major opportunity coming up soon to showcase what you have created. We need to seize the day, he argues, and cash in! You, however, can see a lot of things that you want to improve, plus you've got a newborn kid at home. You'd prefer to go dark for a couple of months to get everything just right.
We found out Tuesday who won this debate. After finishing its off-Broadway run at New York's Public Theater in early May, Lin-Manuel Miranda's "Hamilton" -- a hip-hop musical improbably but brilliantly crafted from the raw material of Ron Chernow's great biography of Founding Father Alexander Hamilton -- will shut down for two months before going to Broadway. Previews will start in July, opening night is Aug. 6; the cast album will be recorded this summer too.
Musical theater, then, isn't like apps or online ads. You can't just A/B test and minimal-viable-product your way to success. Or, actually, you can -- that's what stage readings, workshop productions and off-Broadway runs are all about -- it just takes a really long time, there are very different expectations at each stage of the process and you have to take your product off the market each time while you rework it.
None of that should be a big surprise. There are, however, some other really interesting dynamics at work here. The financial backer, lead producer Jeffrey Seller, was reportedly hoping to get "Hamilton" to Broadway before April 23 so it could be considered for (and probably sweep) this year's Tony Awards. His fear, I would guess, is that Team Hamilton risks snatching defeat from the jaws of victory by taking too long and forgoing the promotional boost of the Tonys. "Hamilton" will soon have more than 10,000 seats to fill every week at the Richard Rodgers Theater (compared with 1,800 at the Public); what if it can't keep filling them through the next Tonys ceremony in the summer of 2016?
Miranda and his creative team's bet seems to be that by delaying and perfecting and promoting the musical and getting a cast album out not too long after opening they can not only fill the Richard Rodgers Theater through next year's Tonys, but become a Broadway sensation that keeps packing the house for years and years.
Basically, they're following a blockbuster strategy -- for good reason. As Harvard Business School's Anita Elberse writes in her book "Blockbusters: Hit-Making, Risk-Taking and the Big Business of Entertainment," most entertainment-industry profits come from a tiny percentage of the movies, books, songs and other products that are released (sorry, Chris Anderson). Pouring additional production and promotional resources into something that already looks like it's headed for big success, Elberse argues, is the best investment a studio or publisher or other entertainment purveyor can make.
Much of the time this means backing sequels or copycats, but every once in a while something new comes along that generates so much enthusiasm among those exposed to it that it seems clear that additional investment will pay off. "Hamilton" is like that. I saw it on the second night of previews, with Miranda -- who is the star as well as the writer and composer -- suffering from a bad sinus infection and barely able to croak out his lines, and liked it so much that I immediately felt that it was my job to start promoting it. This is already my second column based on it, and I've been pushing it on friends via Twitter, e-mail and even actual conversation. As the reviews described above indicate, I am clearly not alone in this enthusiasm. By Elberse's reasoning, Hamilton is ready for wide release.
That's the weird thing about Broadway musicals, though. They can't succeed all at once, like most other entertainment products. They have to achieve their blockbuster status serially, over years and years and years. So even if Hamilton becomes the show that everybody in New York is talking about and going to this summer and fall -- and surely it will -- it won't really be a big success unless tourists are still flocking to see it five years from now.
New York Post theater columnist Michael Riedel is dubious. As he wrote last week:
 "Hey, Mr. and Mrs. Grand Rapids! Wanna see a three-hour rap musical about an author of The Federalist Papers?"

 "Um. Do you have anything available tonight for 'Aladdin'?"
"The Book of Mormon," a musical with a similarly long gestation and seemingly odd premise, did break through and is about to start its fifth year on Broadway. But its creators included Trey Parker and Matt Stone, who had already built a global cult following with their TV show and movies. Miranda is well-respected on Broadway, where his first musical, "In the Heights," won big at the 2008 Tonys. Beyond that he has, well, 57,000 Twitter followers, myself among them. We're very engaged followers, though. I'm sure if any us happens to be walking by as Mr. and Mrs. Grand Rapids waver over buying "Hamilton" tickets, we'll set them straight. 
To contact the author on this story:
Justin Fox at justinfox@bloomberg.net
To contact the editor on this story:
James Greiff at jgreiff@bloomberg.net
Before it's here, it's on the Bloomberg Terminal.
LEARN MORE