What It Will Take to Beat Venezuela's Maduro
After Antonio Ledezma's arrest, Maduro's opposition is angrier than ever. But what can his critics do now?
by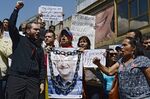 For anyone tracking the slow-motion crackup of the economy, the rule of law and all the other vital signs of democratic life in Venezuela, here's a riddle.