Ukraine's Tarnished Poster Child for Reform
One of Ukraine's most prominent young reformers has been suspended pending a corruption probe.
by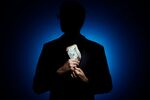 Less than a year ago, Igor Bilous was a symbol of hope and change for Ukraine. The 36-year-old investment banker's appointment to lead the country's tax service seemed to confirm that the overthrow of President Viktor Yanukovych's corrupt regime would mark a generational shift and a radical cleanup of the Ukrainian state. Today, however, Prime Minister Arseniy Yatsenyuk suspended Bilous and two of his key deputies pending a corruption investigation.
Bilous's fall bodes poorly for the stability of the current Ukrainian government. But Yatsenyuk and President Petro Poroshenko must see the investigation through. If they can't win a war against Russian President Vladimir Putin, they at least have to show they can defeat corruption.
Bilous joined the government on a wave of enthusiasm following Ukraine's "revolution of dignity". On March 12, 2014, the day he was appointed, Russia hadn't yet annexed Crimea, there was no war in eastern Ukraine, and young, well-educated Ukrainians were trading in good private sector jobs for nearly unpaid work in the public sector in hopes of helping turn Ukraine into a European nation. Prosperous, multilingual Bilous, who had engineered some of Ukraine's notable mergers, was the perfect poster boy for the trend. 
His first job was to kill off a tax evasion scheme typical of post-Soviet states, whereby companies turn money in their bank accounts into cash through fictitious deals and then pay it out to workers in envelopes, avoiding payroll taxes. This reverse money laundering was one of the leading causes of Ukraine's budget shortfalls. "I get calls from all over the place," Bilous told Liga.net in a May 2014 interview. "People suggest I leave everything as it is. The first month they tried to cut a deal. It didn't work. Nor the second month. Then they went to a lower level, and now they're trying to get everything done on a local level -- it's easier for them. They just don't get it that we see everything here."
The tax evasion problem was never entirely fixed: this month, the IMF was still referring to such "fraudulent tax evasion schemes" as an impediment to increasing Ukraine's revenues. Still, Yatsenyuk said that Bilous performed exactly as Ukrainians hoped in his first six months.
But the tax service seems to have then reverted to business as usual. Yatsenyuk accused Bilous's  inspectors of colluding with cops, domestic intelligence officers and prosecutors to develop schemes "for plundering the country."
Bilous's deputies, tax police chief Vladimir Khomenko and customs boss Anatoliy Makarenko, have also been suspended. In fact, the corruption investigation was triggered earlier this month, when journalists photographed a senior legislator -- who was rumored to have helped Bilous get the top tax job -- texting a regional governor about corruption schemes in the customs service. Senior officials, including Makarenko, and specific payments were named in the texts.
Parliament deputy Mustafa Nayyem complained to the prosecutor's office about the texts. Prosecutor General Vitaly Yarema -- who had also been accused of corruption -- didn't do anything about the complaint and was soon forced to resign by Poroshenko. His successor Viktor Shokin quickly moved against Bilous and his deputies. "It has become easy for a legislator to see the prosecutor," Nayyem told me. "He and his deputies are asking us to give them material and keep up the public pressure. They're afraid we'll attack them like their predecessors."
There's certainly no lack of material. Tomas Fiala, the Czech citizen who heads Ukraine's biggest investment bank, Dragon Capital, said in a recent interview that "there is no organized mafia-style corruption of the kind Viktor Yanukovych created, but in general there's a lot of corruption, and it's everywhere, including the political parties of the country's leaders," Yatsenyuk and Poroshenko. "This is a great disappointment for me, for business and for society," Fiala said. In other words, if Nayyem is right and the new prosecutor is motivated, it shouldn't be surprising if top cops and domestic intelligence officers are soon fired or suspected en masse. Yatsenyuk suggested as much today when he announced his decision to suspend Bilous.
For his part, Bilous called the suspension "unexpected" and said he was ready to answer for his work during the past year. It's not about him anymore, however, nor about others from the first crop of private sector professionals and activists who joined the government last year and then were fired or quit after having failed to change anything. It's about Poroshenko's and Yatsenyuk's political survival. While Ukrainians are still resolved to resist Putin's aggression in the country's east, they are beginning to murmur about the stagnation in their daily lives. With IMF aid slow to arrive and the hryvna devaluing faster than any other currency, visible anti-corruption moves are one of the few opportunities for the country's political leaders to show they are doing their job.
It's too soon to know what Ukrainians will make of this gambit. There's a chance they won't be satisfied. "It's a kind of relay race of mistakes and stupidity," right-wing legislator Borislav Bereza wrote in a column today. "Every government blames its predecessors and makes the same mistakes as the previous one... The only option that can work is new faces and new parties that have not sullied themselves with political quotas, corruption, dividing up lucrative positions and access to the budgetary trough." If that sentiment is widely shared, Poroshenko and Yatsenyuk could be in trouble.
That would be bad news for Ukraine. If the current president and prime minister lose their grip on power, the right wing and the military, unhappy with their commanders and political leaders and angered by recent defeats at the hands of pro-Russian rebels, are the likeliest force to make a bid for dominance. That's a big reason to wish Ukraine's current leaders success.
This column does not necessarily reflect the opinion of Bloomberg View's editorial board or Bloomberg LP, its owners and investors.