Scott Walker's Lagging Indicators
Wisconsin's economic performance ranks in the bottom third of all states since Scott Walker became governor.
by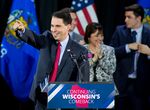 At the close of 2010, a year and a half after the recession officially ended, Wisconsin could claim one of the better economic recoveries in the country. Employment had grown at a faster clip than in most states, and the value of Wisconsin's publicly traded companies was up almost 40 percent. Tax revenue, a sign of economic health, had risen more than 50 percent.