Janet Yellen's 3-Part Message to Congress
The Fed chair will seek to reassure Congress that, having exited quantitative easing in October, the central bank is on course to normalize interest rates in a careful and gradual manner.
by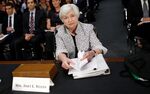 Federal Reserve Chair Janet Yellen is one of three major central bankers who will appear before their national legislatures this week.  In her two-day semi-annual monetary policy testimony that starts today, she will endeavor to deploy a careful mix of offense and defense.
Her goal will be to convey to committees in the House and Senate that the Fed is on course to meet its objectives, that its strength is closely linked to its political autonomy, and that it is high time for lawmakers to push for a more comprehensive policy response, including by enabling Treasury and other policy-making institutions to be more proactive in promoting growth and financial stability.
The context for Yellen's testimony is strong jobs growth, some evidence that wage growth is finally starting to pick up, and new highs for the stock market.
This economic environment, at least for now, is allowing the U.S. to decouple from a weaker global economy, particularly protracted sluggishness in Europe and Japan. The improving U.S. picture provides for the gradual normalization of a Fed policy approach that has relied heavily (and for an unexpectedly long time) on three experimental measures aimed at repressing financial volatility:  large-scale asset purchases, prolonged ultra-low interest rates and aggressive forward policy guidance.
Yellen will seek to reassure Congress that, having exited quantitative easing last October, the Fed is on course to normalize interest rates in a careful and gradual manner. She will have to explain how the Fed intends to carry out this goal, despite competing domestic and international influences, by relying on the dynamic use of its forward policy guidance, including the evolution of the "patient" signal. And she will stress that the pace and endpoint of this rate cycle will be heavily dependent on economic data indicators.
Although she is unlikely to provide an explicit timetable, her comments will be consistent with the possibility of a first rate increase this summer, at the latest at the September Federal Open Market Committee meeting. As such, the Fed will evolve its definition of what it means to be "patient" in the next three months through a new round of linguistic gymnastics. And it will do so in a way that reaffirms a very measured rate hike cycle that will end short of the historical average for the Fed Funds rate.
In emphasizing the improving economic situation and the Fed's  commitment to policy normalization, Yellen will also be seeking to minimize the threat of a political attack on the institution's operational autonomy. She has reason to be concerned: Central banks that are vulnerable to the inherent short-termism of politics tend to be less effective in achieving their mandate.
Finally, Yellen will be eager to remind lawmakers that central banks, in the U.S. and elsewhere, cannot remain the only game in town when it comes to policy making. Economies will only fulfill and enhance their economic potential if central bank activism is accompanied by other policy measures aimed at deepening structural reform, improving the composition of aggregate demand, lifting debt overhangs and strengthening the multilateral and regional economic architecture. For this to happen, Congress and other legislatures need to end their prolonged political polarization and paralysis.
In a more content-driven world -- one in which politics favored substance over form -- central bankers would do a lot more than simply update lawmakers. They would also push them to step up to their economic governance responsibilities.
This column does not necessarily reflect the opinion of Bloomberg View's editorial board or Bloomberg LP, its owners and investors.