Germany Gives Greece a Short Leash
The Greek reform proposal was just enough to earn a German respite.
by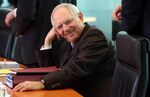 Contrary to all that's been said about Germany's uncompromising stand on helping Greece, Berlin showed today that it's willing to give the far-left government of Alexis Tsipras a chance. All he needed to do was clearly state that he wouldn't make any economic moves before consulting his country's creditors. Even if the rest of Tsipras's plans remain rather vague, Germany seems prepared to offer an endorsement -- while continuing to watch over his shoulder.