view
China May Be Stalling Out and That's OK
At least unemployed protesters aren't filling the streets.
by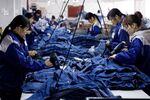 As Premier Li Keqiang guides China toward lower growth rates, economists everywhere are grappling with this question: How slow is too slow for the world's second-biggest economy?
Number-crunchers have traditionally believed that China must grow at least 7 percent to 8 percent annually to generate enough jobs and prosperity to keep protesters from flooding Tiananmen Square. But what if China is already operating at a significantly lower rate of output -- more like 5 percent -- without a significant uptick in unrest? And what might that mean for Asia's economic outlook over the next five years?
The consultancy Oxford Economics has created a "Li Index" that tries to estimate Chinese growth by using measures such as electricity output, credit growth and rail freight. Contrary to the official headline GDP number, those data suggest Chinese gross domestic product growth has been stumbling along under 5 percent for a few months now. While some may quibble with the index's emphasis on heavy industry, the fact is that official Chinese GDP and trade data aren't a whole lot more reliable.
If Oxford is right, that means there may be a much lower threshold for preserving social stability in China than previously assumed. The consultancy's explanation, while highly technical, boils down to this: China's shrinking population and the slowing of migration to cities means there are enough jobs to go around, even as GDP growth also eases. "With population growth slowing, in particular growth in the working-age population, the rate of growth needed to preserve urban employment is likely to slow to around 5 percent by 2020," says Oxford's Clare Howarth.                                                   
While the United Nations claims China's working-age population won't start shrinking until 2016, econometric analysis suggests otherwise. Between 1979 and 2013, for example, urban employment grew about 3.7 percent a year relative to GDP growth of about 9.8 percent. That encouraged the view that high growth rates were needed to generate acceptable levels of employment and maintain stability. As recently as 2013, Li indicated that growth well above 7 percent remained a critical priority for Beijing.   
Now, though, as I noted in an earlier piece, labor scarcity in cities is leading to big wage gains for lower-income workers. China may run out of cheap labor sooner than anticipated; the evidence points to urban population growth approaching only the 2 percent mark between 2014 and 2020.
At the same time, there's ample reason to believe China's GDP is already overstated, as Oxford claims. The ratio of urban employment growth to GDP needed to avert protests may thus also be exaggerated. It's entirely possible that urban population dynamics -- and social stability -- over the next several years can be sustained by 4.5 percent to 5 percent growth.
This is both bad news and good news for the global economy. Bad news, because a Chinese slowdown will rob the world of another vital growth engine amid already tepid demand. Good news, because Li and President Xi Jinping have more latitude to rebalance the economy. They'll need to take advantage of that opportunity, though. Already middle-class incomes are stagnating in China. Unless the country can ultimately create better-paying jobs, particularly in the services sector, this period of labor calm won't last forever.
To contact the author on this story:
Willie Pesek at wpesek@bloomberg.net
To contact the editor on this story:
Nisid Hajari at nhajari@bloomberg.net
Before it's here, it's on the Bloomberg Terminal.
LEARN MORE