Who Made Germany Europe's Boss?
Today, Greece. But which EU member will Germany try to bully tomorrow?
by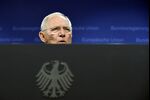 There are two main lines of analysis about Germany's role in the European Union. The first, favored by populist euro-skeptic politicians, is that Germany seeks to reverse the setbacks of the 20th century and rule Europe by other means. The second, popular with political commentators and other members of the European elite, is that German guilt over the setbacks of the 20th century inhibits it from exercising the leadership that the EU actually needs.