view
How to Steal the Oscars
If you're seeking a plot for an Oscar-winning heist movie, one place to start might be the Oscar voting itself.
by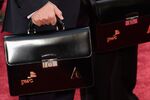 If you're seeking a plot for an Oscar-winning heist movie, one place to start might be Oscar voting itself. It's got briefcases, memorized secrets, secure locations -- feel free to thank me in your speech.
This year, our two red-carpet-walking, briefcase-toting targets are Brian Cullinan and Martha Ruiz of PricewaterhouseCoopers, currently in its 81st year at the helm of the "Oscars balloting process." Cullinan and Ruiz will be the "only two people in the world" (emphasis mine) to know who the winners are before the big show. "We take our roles very seriously," Cullinan told the Hollywood Reporter.  
More than 6,000 members of the Academy of Motion Picture Arts and Sciences are eligible to cast their ballots; voting closed Tuesday, and tabulation could wrap sometime today. "PwC tabulates the final results at a secure, undisclosed location, finishing just two days before the show," explains Variety. (Ruiz suggested to Fox News Latino that counting the votes and determining the winners takes about three days.)
But this is oh so much more than a few days and a couple of people counting. According to Cullinan, it's a nearly yearlong process. The Los Angeles Times indicates there's quite a crew:
For the tallying this week, Cullinan and Ruiz supervise a team of nearly 30 members 1 to come up with the final results. Accountants verify the votes and tabulate portions of the 23 other Oscar categories, all of which are determined by popular vote. (Cullinan and Ruiz personally handle the best picture vote counting.) The small-batch segments are then passed on to the two senior partners, who add the numbers and determine the winners. Only Cullinan and Ruiz know the results until the moment each envelope is opened on Oscar night.
When the winners have been established, envelopes are stuffed, the number of required golden statuettes is relayed, and a whole lot is committed to memory. "The pair said that in order to ensure the names of the winners don't fall into the wrong hands they won't even make a list," according to the Hollywood Reporter. "Instead, they will memorize the names of the winning films in every category, then quiz each other to make sure they both have it down pat." (Memory-snatching: a science-fiction touch for your film.)
So, about those envelopes. "Two briefcases are prepared each with a complete set of envelopes bearing all the Oscar winners' names," PwC explains. Those briefcases are placed in the same safe, in a secret location, and will then be taken separately by Cullinan and Ruiz on Sunday to the Dolby Theatre in SUVs accompanied by armed guards, according to the Hollywood Reporter. Variety tells a slightly different story, suggesting that there are three sets of sealed envelopes, with Cullinan and Ruiz each getting a set and the third going to a secret location. (The -- unlikely? -- possibility of a third set of envelopes seems pretty key to your plot.)
What would happen if PwC made a mistake? We'd probably never know. What would happen if Cullinan and Ruiz made a tweak or two? We'd also probably never know. What would happen if a presenter decided to read a different name than was on the little card? One hopes that our two PwC representatives, backstage and guarded, their memories serving them well, would rush to the mic and expose the farce. Or maybe just give Kanye the signal. 
In the grand scheme of world events, none of this really matters. Those envelopes do not in fact contain nuclear launch codes. (Though aren't Ruiz and Cullinan the only ones in the world who actually know?) There are probably a lot more important things that our fearless leaders and their team of "tight-lipped, meticulous accountants" could be counting (see: Florida, 2000). But, if anything, the pomp and circumstance of the tallying is part and parcel of the whole evening: self-important, unimportant and utterly delightful to take very seriously.
For what it's worth, the Hollywood Reporter suggests the pair "have the help of about a half-dozen PwC staffers." Meanwhile, Variety says they're supported by a group of four to six. So use your imagination -- and your judgment -- on how many number-savvy elves to include in your script.
To contact the author on this story:
Zara Kessler at zkessler@bloomberg.net
To contact the editor on this story:
Brooke Sample at bsample1@bloomberg.net
Before it's here, it's on the Bloomberg Terminal.
LEARN MORE