Forward Guidance Still Isn't Working
You'd never know the Fed and ECB are overseeing diametrically opposed economies from the words they use at their policy meetings.
by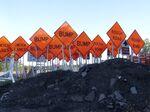 The Federal Reserve and the European Central Bank are diametrically opposed on the monetary-policy spectrum. The Fed is debating how soon it should start to normalize policy by raising interest rates and unwinding its huge bond-buying program as growth improves; the ECB is only just about to introduce quantitative easing as the euro region threatens to slump back into recession.