Will Obamacare Join Tax Season Chaos?
The Obama administration needs to resist the urge to make permanent policy out of temporary problems when it comes to health-care reform.
by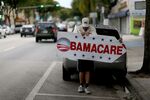 Apparently, there is a movement afoot to get the Barack Obama administration to line up the Affordable Care Act's open-enrollment period with tax season. The reason: Many people are going to find out in March or April that they owe a penalty for not having the minimum essential insurance coverage. Those unlucky people, who may decide they'd like to buy health insurance after all to avoid next year's penalties, will be too late to go through that year's open enrollment.