Is There an App for Ending Forced Labor?
Apple is trying to improve labor practices among its Asian suppliers. There's much more to do.
by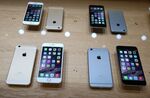 Human rights observers applauded last week when Apple announced its most ambitious effort yet to stamp out labor abuses among its Asian suppliers. Recruitment agencies in Asia are no longer allowed to charge fees to factory workers who make Apple products, and Apple vowed to scrutinize its supply chain to ensure that its new rule is enforced.