Useless Terrorism Chatter
Big public conferences -- particularly those convened in Washington -- rarely change very much.
by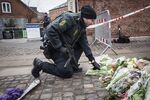 My father used to have on his bookshelf a volume titled "To Fulfill These Rights," the report of the 1966 White House conference on race in America -- an event in which he participated. When in the proper mood, he would page through it, pointing out how few of the many recommendations ever became law. Big meetings, he said, hardly ever changed anything. Too many egos, too many agendas, too much talk. The slow, steady work behind the scenes was what mattered.