How Much Would You Pay for Snapchat?
Spend some time trying to calculate the worth of a high-flying startup, and your head will start hurting.
by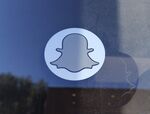 What is Snapchat worth? Well, if the purveyor of disappearing photos and videos succeeds in attracting a new funding round of $500 million, and gets those new investors to settle for 2.6 percent of the company, it will be worth $19 billion -- just like Xiaomi and Uber, two startups with even higher valuations, are worth $45 billion and $41 billion, respectively.