Are Emerging Markets Losing Their Appeal?
The easy money is looking elsewhere now.
by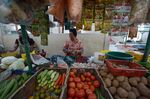 Investors are still scratching their heads over Indonesia's surprise rate cut on Tuesday, when the central bank lowered the reference rate 25 basis points to 7.5 percent. They're more likely to find an explanation in Frankfurt, Tokyo and Washington than in Jakarta.