How to Build in India
First, build a better bond market.
by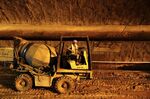 If there's one thing holding back India's economic growth, it's the country's massive infrastructure deficit. The lack of good roads, bridges and ports can't be blamed entirely on red tape, which often leaves major projects stalled for years. Financing is an equally critical roadblock -- one that the government would be wise to tackle when it lays out its first full-year budget on Feb. 28.
The previous Congress-led government estimated that India needed to invest somewhere around $1 trillion in infrastructure between 2012 and 2017 in order to bridge the deficit. Marred by corruption scandals, careless populism and a lack of constructive decision-making, that government's last two years in office between 2012 and 2014 were a deadweight loss. The country still needs $1 trillion, perhaps more, in infrastructure investment over the next five years if Prime Minister Narendra Modi is to fulfill his promises to spur growth.
For a decade now, to avoid busting the budget, the government has sought to attract private capital for major infrastructure projects. In theory, private companies would complete projects faster and more efficiently than the state would, as long as they were insulated against the initial risk. Instead, the system of public-private partnerships quickly degenerated into rampant crony capitalism, where big companies accumulated profits and the public sector absorbed losses. The process led to high-profile scandals and in response, a halt to many ongoing projects. That in turn left private companies with huge debt burdens and state-owned banks (the biggest lenders) with a large amount of non-performing assets.
It was always a bad idea to force banks to lend for infrastructure projects. There is a fundamental mismatch between the short-term nature of bank deposits and the long-term nature of infrastructure funding. Now Modi's government faces the additional challenge of recapitalizing stressed banks.
The good news is that unlike its predecessors, the current regime has some fiscal room to increase public investment in infrastructure. Modi's government has stuck studiously to its fiscal deficit targets and desisted from wasteful spending schemes. Yet even if the government were to commit 1 percent of India's GDP annually to infrastructure spending, that would only amount to $100 billion over the next five years -- barely a tenth of the required investment. In the unlikely event that the government slashed all subsidies on food and fertilizers, and invested up to 2 percent of GDP annually, it would still fall 80 percent short of its target.
The fact is that there are only two sustainable ways to raise money for infrastructure -- via a thriving bond market, or through state-owned development finance institutions. The bond market is by far the best place to raise long-term finance. Yet it's very underdeveloped in India, largely because it is dominated by the government, which has traditionally used it to raise cheap finance for its own profligate spending. The first step to building a truly vibrant bond market is fiscal responsibility.
But even such rectitude is not enough. India's regulatory machinery needs a radical overhaul. For depth, bond markets require investors, both domestic and foreign. Those investors need to be able to hedge their risks -- credit risk, interest-rate risk and currency risk -- in appropriate derivatives markets for each. Currently, India's regulatory apparatus frowns on hedging interest-rate risk and currency risk. It is suspicious of complex financial instruments and the 2008 global financial crisis only reinforced those suspicions. The country has thus singularly failed to develop the kind of bond-currency-derivatives nexus that would underpin a thriving bond market. There's a good case to be made for shifting the responsibility for regulating these markets from the central bank -- which has reason to be excessively cautious as manager of the government's debt -- to the Securities and Exchange Board of India, which oversees the country's bourses.
Developing a true bond market will take time, of course. So in the short run, the government also needs to encourage non-banking financial institutions to step in with financing. A number of such bodies already exist, from the India Infrastructure Finance Company to the Infrastructure Leasing and Finance Company and the Infrastructure Development Finance Company. But they lack scale and are dependent on India's narrow bond markets to raise money. One radical idea that's been floated would be to create a sovereign wealth fund using the shares of public-sector companies, rather than foreign exchange as with other similar funds around the world. That would give such a fund $200 billion to work with immediately, a number that could be quickly scaled up to $1 trillion by diluting equity and by raising debt funds from markets.
At this point, radical ideas are exactly what India needs. There's no other realistic way to meet the country's infrastructure needs within a reasonably quick time frame. The budget is Modi's chance to show he understands that.
This column does not necessarily reflect the opinion of Bloomberg View's editorial board or Bloomberg LP, its owners and investors.
To contact the author on this story:
Dhiraj Nayyar at dhiraj.nayyar@gmail.com
To contact the editor on this story:
Nisid Hajari at nhajari@bloomberg.net
Before it's here, it's on the Bloomberg Terminal.
LEARN MORE