Editorial Board
Don't Close Gitmo. Move It.
Where and how should the U.S. detain and try those captured in the fight against terrorism?
by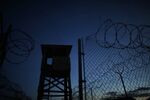 Barack Obama's promise to close Gitmo predates his presidency and will probably outlast it. Obviously it'd be better for the president (and, in this case, the country) if he could keep his promise. More important, however, is getting the policy right -- and that may require keeping Gitmo open or moving it to the continental U.S.