Ukraine's President Is Trapped With His Troops
Ukrainian rebels want one last victory, but Kiev is unwilling to admit its last defeat.
by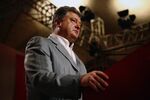 Two days after the belligerent parties in eastern Ukraine were supposed to suspend fighting, the truce is not holding. The agreement sealed last Thursday has hit the first of several predictable snags: Kiev refuses to recognize that a large number of its troops are encircled near the railroad junction of Debaltseve, and fighting rages on as these troops try to break out. Although both sides are guilty of violating the cease-fire, responsibility for preserving it is now in the hands of Ukrainian President Petro Poroshenko.