Low Turnout Makes These Politicians Happy
We should stop blaming voters for low turnout, and fix the system. Problem is, the candidates like things the way they are.
by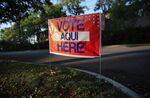 Today was Election Day in my Texas precinct. Yes, again!
This time it was a runoff election after no one cleared 50 percent in a special election to replace a state legislator who resigned to run for mayor of San Antonio. They rushed the election to replace him because, among other things, the legislature is sitting right now, so we need representation.
But if they had waited until May, when the hotly contested mayoral contest and other local offices are on the ballot, someone might have showed up. Turnout was terrible. I was only the ninth voter in my precinct this morning, almost three hours after the polls opened.
The silver lining was that for the few of us who did turn out, voting was easy. Just one decision to make, on a consequential office. And while the first election was an all-comers affair, the top two finishers in the runoff were a Democrat and a Republican, so people didn't need help in figuring out whom to vote for. It's different in the adjacent state senate district, where the runoff today features two Democrats. There were visible campaigns, and even some newspaper coverage (for those of us who still read local newspapers). 
This is the second election day in my precinct this year, and the ninth already in the four-year cycle beginning after November 2012, bringing me to 134 votes cast in the  four-year cycle so far. Barring anything unexpected, this should be it …  until May. And with four strong candidates for mayor, a runoff is likely in that one, too.
We're voting for important offices this year, but three or four elections a year on average is way too many. Few voters will turn out every time. The solution is to hold fewer elections -- start by eliminating judicial contests for the states that have them -- and consolidate as many elections in November as possible. Politicians who spread elections out at seemingly random points on the calendar don't want voters to show up. They shouldn't get away with it.
This column does not necessarily reflect the opinion of Bloomberg View's editorial board or Bloomberg LP, its owners and investors.