Is the Bush Family Brand a Liability for Jeb?
For a candidate that much of the Republican Party establishment views as a strong front-runner, Jeb Bush gets surprisingly negative marks from voters.
by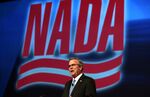 The legacy matchup -- Jeb versus Hillary -- has politics aficionados salivating, or recoiling, with the first 2016 presidential votes almost a year away.